Effective support for your plant security tasks
How does COREDINATE help with your plant security tasks?
COREDINATE offers you a wide range of functions that support you in your plant protection tasks. Here we present some of these functions.
Plant protection tasks with COREDINATE
Your tasks in plant security are varied and located in many different areas, but mostly you or your colleagues work on a larger industrial or commercial site. This often sprawling site places its own unique demands on you as a security guard.
It's a good thing that COREDINATE provides you with many useful functions that you can use in your plant security tasks and that make your work easier.
COREDINATE tour planning for your plant security tasks
The be-all and end-all of a successful shift is planning in advance. With COREDINATE Shift Planning you bring order into your plant protection tasks.
Plan your tour via the COREDINATE portal using NFC, GPS or Bluetooth control points. These points form the cornerstones of your tour, the important points that you must head for in any case. These are the basis of the COREDINATE technology. You can link all other functions to your tour in various ways via these control points.
In any case, you can be sure that everything runs according to plan, that no tasks are forgotten and that you or your employees on site always know exactly what needs to be done.
COREDINATE digital guard book for your plant security tasks
Documentation may not be one of your main tasks, but it is still an important part of your daily work. So if something goes wrong here, it means overtime and rework for you. With COREDINATE you can avoid that.
The COREDINATE Digital Watch Book function supports you in your plant security task by acting as your digital secretary and recording everything that happens during the shift. Completed tasks, recorded events, key handovers and acceptances - simply everything that you would otherwise have to record manually or with additional equipment, COREDINATE will take over for you in the future.
You can even have the resulting reports sent to customers automatically via the COREDINATE portal.
COREDINATE event recording for your plant security tasks
If incidents occur during your shift, they must of course be documented and communicated immediately and cleanly. COREDINATE supports you in your plant security tasks with the event recording function.
Record events easily and quickly with your business cell phone. True to the motto A picture is worth a thousand words, this is possible with COREDINATE event recording even with a photo. This way, no questions remain unanswered and you can rely on a quick decision by your incident commander or customer.
If you also book the COREDINATE Flexible Forms function, you can create individual forms for event recording to ensure that you always receive all the information you need - no more and no less.
COREDINATE key management for your plant security tasks
As a security employee in plant security, your tasks include issuing and managing keys. COREDINATE can reliably support you in this.
With the COREDINATE key management every key gets a history. All you need is a smartphone, with which you can document every handover and receipt of a key in the future. If you additionally use the COREDINATE key seal, even whole key bundles are additionally secured. Thus, no key can be removed unnoticed anymore.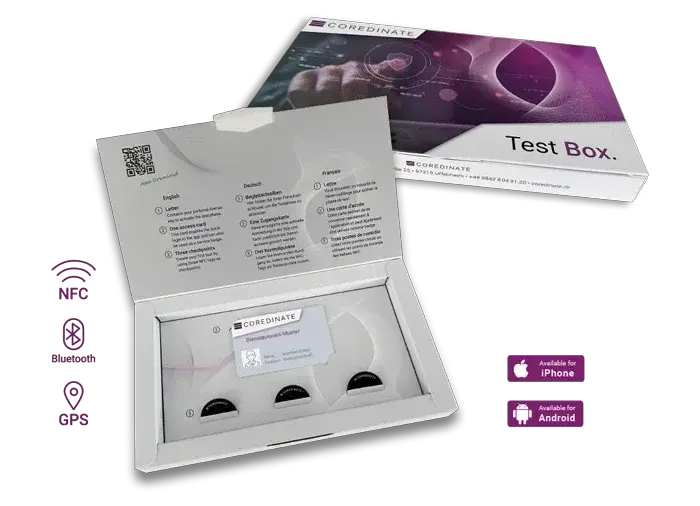 Test COREDINATE patrol management free of charge and without obligation.
Test, challenge and evaluate with a fully supported 14 day trial period of our guard patrol system. Compare the results against your key requirements and we are confident that you will see the value that COREDINATE brings. 

There is no obligation, after the trial period, any and all data collected can be deleted by you from the system portal. You may keep the test set, no return shipping necessary and file it for the future.
Alternatively, after the trial period, simply activate the account and continue to COREDINATE.