Hierarchical data structure: Customers can be created in just a few steps.
COREDINATE is hierarchically structured here, i.e. access is always via the customer down to its individual areas and the assigned control points. The creation of a customer is possible with a few steps:
Open the portal at portal.coredinate.de/en and log in with your username and password, if you have not already done so

Click on Master data and below that on Customers.

Click on the blue button + Create customer in the upper right corner.



und folgendes Popup-Fenster erscheint:

Enter the name of the customer here and then click on Create. The address is not entered here at this point. Under the word Customer, click the pencil icon to the right of Information and then enter the customer address. This step is optional.
In the following window you can enter city, street with house number, as well as the zip code and click on Save.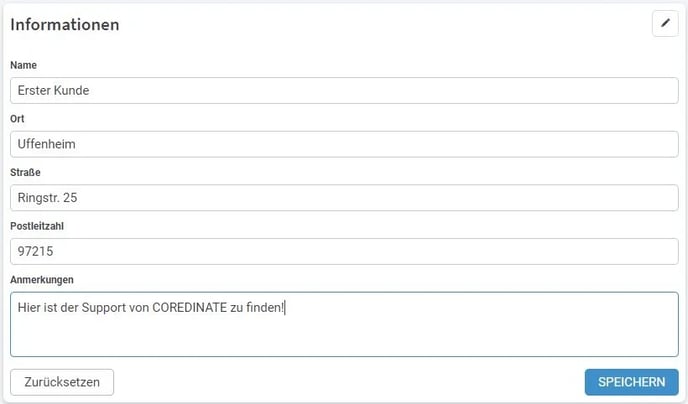 Please note that COREDINATE still needs at least one area to work. Ranges are subunits of customers. How to create a range, you will learn you here. An even more detailed explanation of how to you will find here. Creating the first or another customer is exactly the same.