If COREDINATE is newly set up at one of your customers, the menu item Customers within the master data is the most important area. As already mentioned, via Customers you manage not only the customer itself, but also its subordinate areas, contact persons and control points.
It is important to understand the basic hierarchy of COREDINATE.
At the top is always your customer, which can then be subordinated to several areas. The individual control points are then in turn subordinate to the areas.
It is often the case that there are contacts at the customer who are at the highest level and do not just manage certain sub-areas.
These contact persons are then directly assigned to the customer (e.g. board of directors or managing director).
In addition, however, there are contact persons who are responsible for specific areas. You can then assign these people to individual areas.
Your employees will then see the contact persons either in the customer information or in the area information.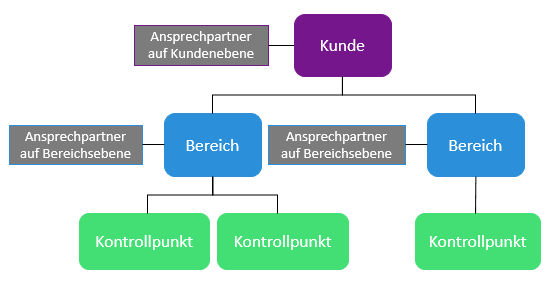 To create a new customer
Log in to the portal, click on Master data in the main menu on the left and then on Customers.




A list with all customers already created opens.



To create a new customer, please click on the blue field + Create customer in the upper right corner under your name.

A window will open where you need to create the name of the new customer.

As soon as you have assigned a name and clicked on Create, the detailed view for the customer opens with the following information:

This completes the creation of the customer, but it can be edited at any time.
You can also deactivate created customers in the portal, e.g. if this customer is currently no longer managed by you, but may come back to you, or if you do not want to delete the customer, but the overview in the portal should remain comfortable. To do this, please click on the circle symbol on the right in the list of customers under Action. The customer and his areas will then be displayed neither in the portal nor in the app.

There is still a warning message that you need to confirm: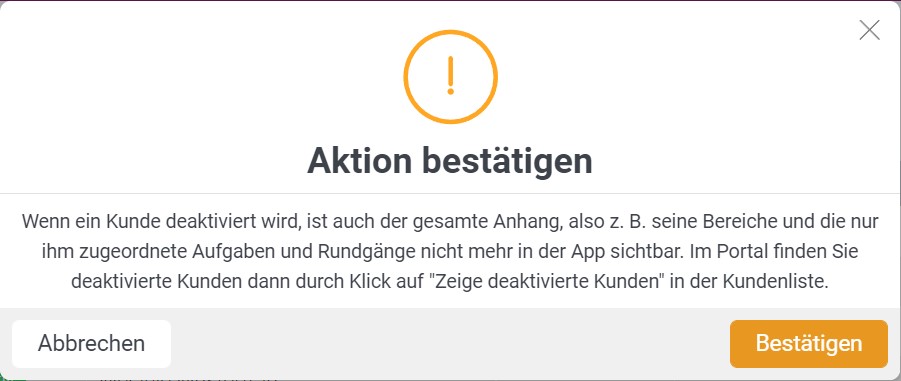 Once you have done this, the customer disappears from the list for the time being, but can be displayed again by clicking on Show deactivated customers!

If you want to reactivate the customer, simply click on the black dot on the right side of the action and the customer will be reactivated and will be visible again in the portal and in the app!
For COREDINATE to work correctly, you still need to create at least one area per customer. How to do this, you will learn hier .