With our time clock, you can conveniently have many employees clock in and out - all with just one mobile device.
The basic requirement for this is that your employees have the right to the app see working time module.
Only those who have admin rights in the app can put the app into time clock mode!
How to assign user rights, read here, please scroll down to the point Rights.
In order to record the working time of many employees in rows directly one after the other, there is the time clock function.
The special feature: The app is set to a special state that is optimally suited for the mass recording of working time - all other functions are hidden (in contrast to normal time recording).
Activate the time clock
Please log in to the app with admin rights. There you will see the Administration item, which you tap. You will now see the following picture:

Now please tap on Enable time clock and you will still get queries and hint windows that look like this: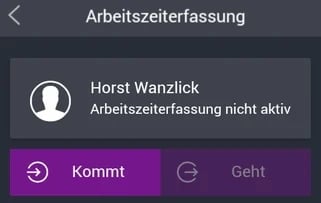 By tapping on yes the confirmation will be displayed now.

Tapping the yes button again switches to the direct view of the time clock.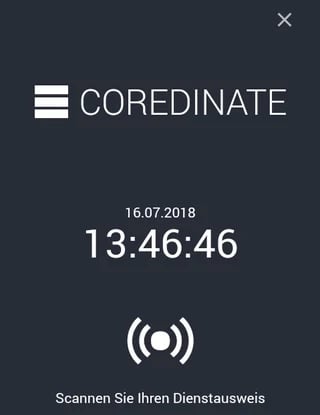 Stamping in/ stamping out
The recording of working time for individual employees is very uncomplicated and possible directly after login in the main menu of the app. To do this, the employee simply has to scan his badge and then tap the Comes or Goes button, whereupon the working time begins or ends.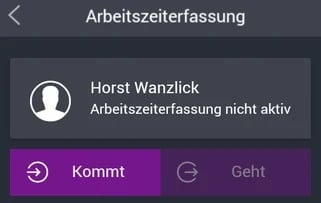 Tap on Comes (here our example) and the working time is started. You will get a small hint in the lower part of the display:


The working time has now started.
Instead of pressing the come or go button, you can also start and stop the working time or area time recording via checkpoints, which is much more convenient for employees.
Stamping out is analogous to stamping in.