If you want to work with the COREDINATE app, you basically need an internet connection.
The way you establish the mobile data connection doesn't really matter. How to establish the data connection, please refer to the operating instructions of your mobile device.
For mobile use in the wild you need a SIM card. You can get these either as a contract card from the mobile phone provider of your choice or as a prepaid card from the supermarket around the corner.

Since it depends on how much data you send, we can't really give you a tip about the data volume. Flat rates are usually not subject to any restrictions, so you are always on the safe side.
If you are in use in a building that is covered by wireless LAN and you have access to it, you are best advised to use this wireless connection.

Login to the app
If a user wants to log in to the app, an internet connection is forcibly required here. Right here at this point the app asks in the portal if the user who is about to log in is allowed to log in at all (e.g. if he is perhaps set to Inactive in the portal) and if so, what rights this user has.


Administration
If the user wants to teach control points or assign an access medium, an Internet connection is mandatory. An Internet connection is also required for reading out NFC media.


Entering the area
If you want to enter an area, the device must be actively connected to the Internet.
Likewise when starting a tour.
Once you have selected the area, you can also scan checkpoints offline, i.e. without an Internet connection. Likewise, you can complete tasks and record events. These are then sent to the portal as soon as you have an active Internet connection again.

You can tell whether there is currently active data in your mobile device that has not yet been transferred by this symbol at the top right of the display
.
Checkpoint scans are always transmitted with the actual time at which the checkpoint was captured - regardless of the time at which it is ultimately transmitted to the portal. Tasks and events are also transmitted with the times at which you captured them.

Time recording
The time recording works as well as the scanning of the checkpoints online as offline.
You can also work with the app completely without the Internet,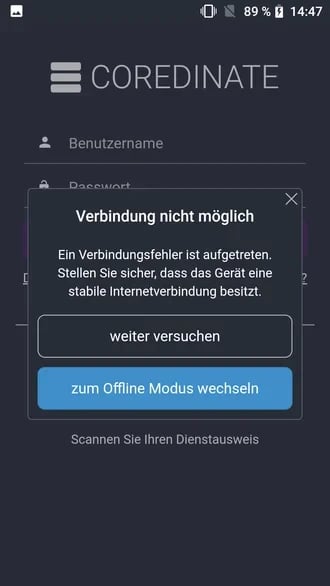 but then only NFC checkpoint scans are possible.