Unfortunately, we are required by the manufacturers that you as a customer contact the manufacturer directly and not us in the event of a defect.
In case of defective SONIM devices, the customer should contact Sonim Support (English-speaking) via e-mail: RMA@sonimtech.com
Sonim support requires the following information:
1. Full name (your company name & contact name)
2. physical address (postal address)
3. sonim model and date of purchase (DD / MM / YY)
4. handset IMEI number (If this is still possible, dial * # 06 # with the
phone keypad, then the IMEI will be displayed) 1*)
5. your company name
6. contact phone number
7. mobile phone provider
8. explanation of the problem

Notice:

Be sure to send the proof of purchase
do not register more than 5 devices for repair at the same time
never mix warranty cases with non-warranty cases
SONIM devices

1*) If the display no longer works or the IMEI can no longer be displayed in the device, you can find it on the XP8800 under this sticker (please remove it if you have not already done so)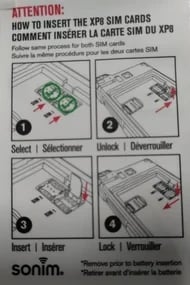 in the battery compartment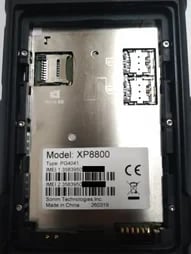 On the Sonim XP7700, you can find the IMEI on the back of the device:
The sticker is very small and the IMEI very difficult to read!
Crosscall devices
In case of defective CROSSCALL devices, it is best for the customer to first contact CROSSCALL by phone. Further information and a German telephone hotline can be found at: https://crosscall.com/de/support-germany/