If you have recurring processes (e.g. expiration of defective mobile devices), you can create processes as well as operations for them.
We explain how to create processes here in this post.
Only after you have booked the feature with us or requested a test period, you can assign the rights processes and operations!


Open the editing of the rights by clicking on the small pencil and assign processes and/or tasks – see or manage.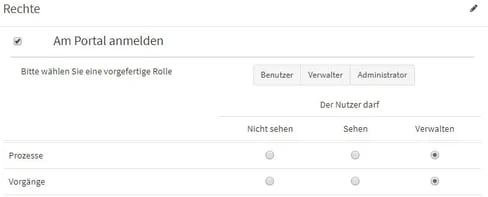 (Simplified representation! Rights are in alphabetical order!)
Then click Master Data in the main menu on the left and Processes below it.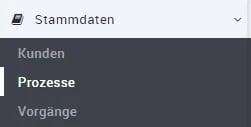 Here you see a blue field

, on which you should click. In the next step you need to enter a name for the process.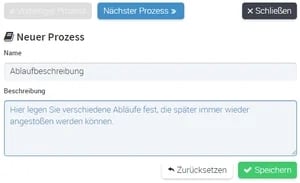 A description is optional, but would be useful. After clicking on

you will see the assignments, which you can change by clicking on the small pencil. By default, your company is always selected. But you can also assign one or more customers, one or more areas and also different customers and different areas.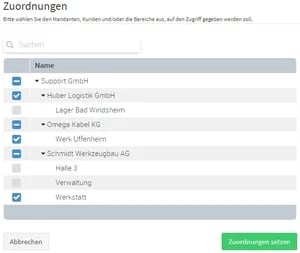 After clicking Set Assignments you will see them here and also the blue box
, where you should click to create a new task.

You must name a task, the description is optional. Once you have made all the entries for the task, click the save icon to the right of the name

and description to apply the changes. Assignments and tasks can of course be changed at any time (e.g. if a step changes). When you have created all the required tasks, you can end the process creation with the button
in the upper right corner. Now you can see your created process in the Processes overview and can immediately create further processes, which will then also appear in this list.

You can create a process from the created processes with just a few clicks. We will explain how to do this in this article.