You can search in data fields of flexible forms its values (e.g. numbers) or entries (e.g. names).
If you are looking for an evaluation in the portal that contains certain values – for example, a meter number – you can search for it specifically and display these completed forms. This can be helpful if you want to perform an evaluation of a meter or if you want to record recurring blockages at e.g. fire protection doors (our example here).
To do this, please click on Work results -> Task completion in the portal. Now you can apply various filters above the list. Click on Filter, a selection of available filters will open.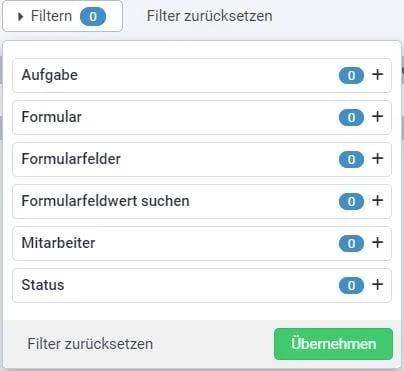 Now select a filter according to whose criteria you want to search and type what you want to be displayed in the search field.
If a value (or several values) is found, it is highlighted in orange.

You can also search for values (e.g. a meter number or a door number) entered in a field, then the system will search within the forms for the entered value.
If the value is found, you will get all forms with this value listed. If the value is not found, you will get the indication that no data was received.
Legend:
| | |
| --- | --- |
| Task | searches for a specific task and lists it |
| Form | searches for a specific form and lists them |
| Form fields | searches for form fields in forms and lists these forms in which these fields are contained |
| Search form field value | searches for contents of form fields filled in by an employee and lists these forms |
| Employees | searches for employee names and lists them |
| Status | Displays Expired, Completed, Started, Not Completed, and Available statuses, depending on which one(s) is selected |
Please note:

Depending on the number and complexity of your forms, the search may take some time.