Transparency for your security service
Your OWKS® for a transparent security service
What do security services actually do? The fact that the average consumer is not aware of the scope of your work need not bother you. However, it is essential that your client is informed about every detail of your security service!
With insights into your work, you stand out from the competition. Show how exemplary you and your team master all tasks! Prove that an object is continuously guarded. COREDINATE's OWKS® makes your security service transparent.
An app for your security service
With COREDINATE's OWKS you have in your hands an online guard patrol system with market-leading features, available as an iOS app or Android app on your service smartphone. With it, you have everything you need for your security service. Starting with the checkpoint scan, event logging, your task management and the real-time watchbook that you can view through the portal.
The term security service is a collective term for all activities within the private security industry. That's why it covers a wide variety of tasks. No matter whether your team is active in the object protection, event service or precinct guard service. Whether it guards a building site or is ordered to secure objects. COREDINATE can be used in your area and facilitates the daily work for your security service.
Among other things, the OWKS® offers you a dead man's alarm especially for lone workers to minimize the danger for your employees, or the option of GPS tracking, which has repeatedly proven itself during field operations. Also not to be underestimated: the messaging function - for secure communication beyond WhatsApp & Co.
The functions of COREDINATE at a glance
COREDINATE is a versatile yet clear system. You document both the most important tasks and the smallest secondary activity in no time at all. In addition to real-time monitoring and individual evaluations, our extensive rights system gives you customized insight.
Satisfied customers through a visible performance
Set up portal access for your customers. Determine what your customers can see there. Every security service, no matter how inconspicuous, can thus be made visible. Transparency ultimately increases customer loyalty and improves your ability to win new business. It is a special feature that helps you stand out from the competition!
This is what enthusiastic customers say:
Due to the transparency and easy handling, the feedback is consistently positive.
Reporting and customer connectivity saves us a lot of time.
By the way, these customer accesses do not incur any additional costs. Because with COREDINATE, only the number of apps is billed, not the number of users. This is another advantage of our guard patrol system for security services, which runs on both iOS and Android devices.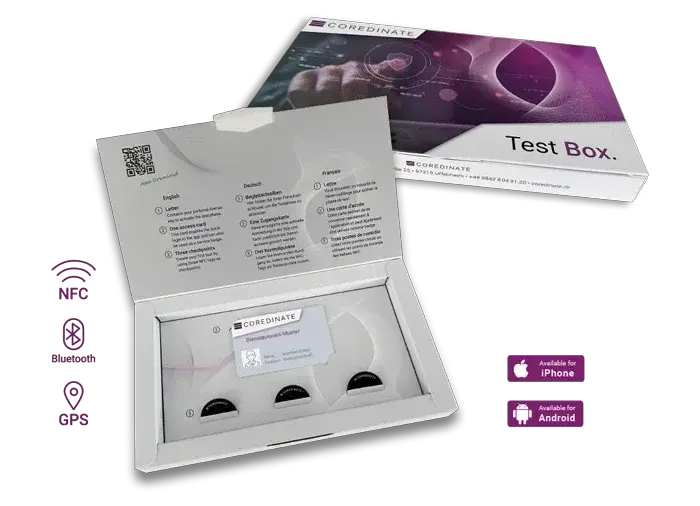 Test COREDINATE patrol management free of charge and without obligation.
Test, challenge and evaluate with a fully supported 14 day trial period of our guard patrol system. Compare the results against your key requirements and we are confident that you will see the value that COREDINATE brings. 

There is no obligation, after the trial period, any and all data collected can be deleted by you from the system portal. You may keep the test set, no return shipping necessary and file it for the future.
Alternatively, after the trial period, simply activate the account and continue to COREDINATE.