What is key management?
Key management
One of the functions of COREDINATE is the management of keys. Once keys have been stored in the system, their receipt and return can be logged via the app, which very quickly provides clarity as to who last had which key in use and whether, for example, a key ring has been returned in full.
The transfer can be documented manually or by a scan.
The employee needs certain rights to be able to use the key management of COREDINATE. On the one hand, the right within the app is required so that he can open the menu item at all.
By default, this right is enabled in the App User role: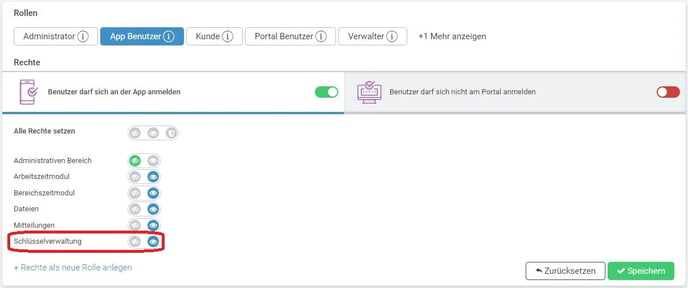 Secondly, the key must be assigned to an area or customer that the employee is also allowed to see. If a key is assigned to object A, but the employee only has access to object B, he can't see this key in the app.
In order for your employees to be able to document the acceptance and return of keys via COREDINATE, it is necessary that the keys or the key ring have been created beforehand in the portal in the COREDINATE master data.