COREDINATE: Master data (users, customers) and daily work results (scans, events) can be viewed in the portal. Devices are displayed transparently.
COREDINATE works with two different types of data: master data, which is created once and then changed rather rarely (e.g. user data, customer data) and work results, which are practically only created by daily work (e.g. checkpoint scans or events).
Therefore, as the name suggests, work results are the result of working with COREDINATE.
Work results can be, for example:
The watch book with all incidents
Checkpoint scans
Recorded events
Completed, paused, cancelled or even running tours
Tasks - completed as well as not completed
Workstation protection alarms
Key movements in the key log
You can easily find the work results after logging in to our portal on the left in the main menu and after clicking on the entry Work results a list with the individual items appears, which you can then select by clicking on them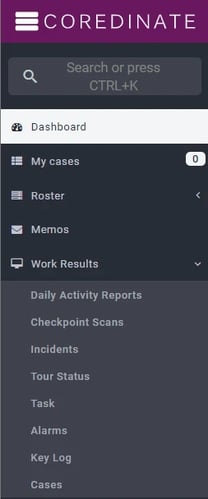 Devices at work results
In addition, the devices with which the data records were captured are displayed in the work results.
Used devices are displayed at:
Events, provided that they were recorded with the app
Checkpoint detections
Tasks, provided that they have been recorded with the app
Tours
Key handovers, provided that these have been recorded with the app
Since events, tasks and key transfers can also be recorded via the portal, no devices are displayed here, of course;
Portal
is then displayed for Device.
All corresponding work results have additionally received a new column
Device
in the table and show the device in the detail view on the right.
In the filters, you can also search explicitly for the devices in
More filters
to get results that were captured exclusively with this device.