Basically, a COREDINATE license is bound to a specific device. Nevertheless, it can happen in everyday life that a device fails and you need a short-term replacement.
COREDINATE support is not always available then (e.g. at night or on weekends). For this reason, you have the option to move licenses to another device yourself.
Important: Since we charge by activated devices and therefore have to avoid constantly moving licenses to another device, it is not possible to move the license back to the original device yourself before two weeks have passed!
To move a license, proceed as follows. Log in to the portal and click on Administration and then on Devices: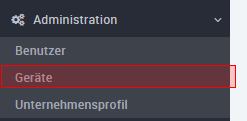 All devices that you have used with COREDINATE will then be listed.

Click on the three small dots at the end of the entry under Action on the device from which the license is to be transferred. A small window opens, in which Exchange license is to be seen, which you please select.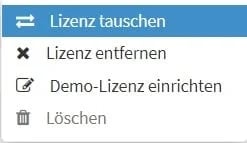 Once you press this button, only the devices that do not have a license yet will be listed, which will make it easier to select the target device.
If the license has already been moved once, the device may not be offered to you as a device for exchange, even if there is no license on the device. There is a 14-day grace period for this, after which you can move a license back to a previous device.
Above the list, what has been selected as the output device is displayed once again for clarity.

Next, simply select the target device, i.e. the device to which the license is to be transferred, by clicking on it in the list. Now please click again to the right of the desired device without license on the three small dots and then again on Swap license and the following warning message appears: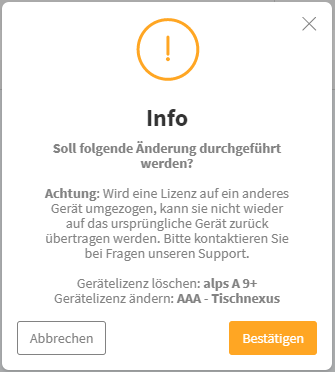 After clicking Confirm the license and all additional modules booked on it are moved to the new device. It can be used immediately. The original device is marked as locked – withdrawing the license to the previous device is only possible by the customer after at least two weeks or 14 days have elapsed.
If this should be necessary in individual cases, please contact our support, we can then move the license back to the original device (e.g. after a repair).!