Alarm profiles make it possible to secure mobile devices to protect employees by individually configuring settings and assigning them to specific devices.
Alarm profiles are used to allow you to set up and use mobile devices for additional protection of your employees. How to create an alert profile and set it up is explained in this article.
Please note that currently no iOS devices (e.g. Apple iPhone etc.) are usable in Workplace Protection!
Log in to the portal with the appropriate rights. In the main menu on the left, click on Workplace protection and below that on Alarm profiles.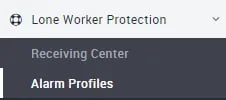 You will see a list of your already created alarm profiles, if one or more alarm profiles have been created. If no alarm profile is stored yet or if you want to create a new alarm profile, please click on the blue button Create alarm profile in the upper right corner. A popup will open where you have to enter a name for the alarm profile.

After clicking on Create you will see a window in which the setting options are visible.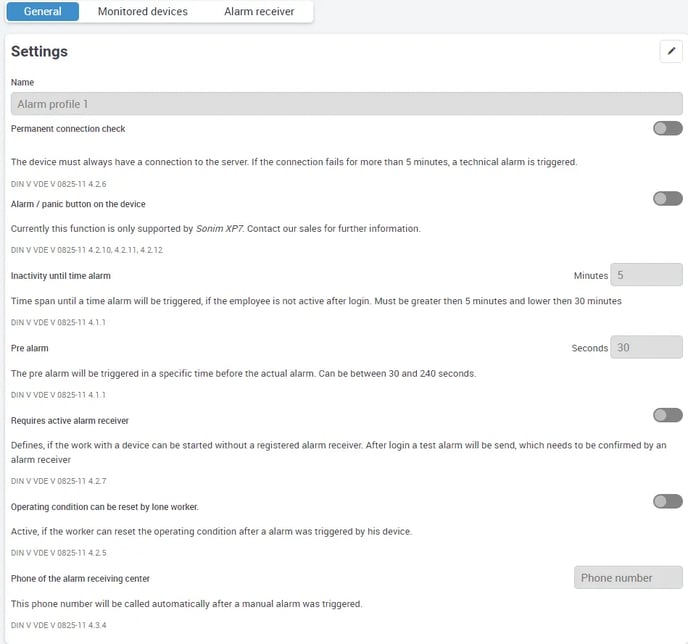 It is not mandatory to comply with the pre-standard VDE V 0825-11!
Even if you want to take advantage of the VBG premium procedure, compliance with the pre-standard is not mandatory!
In the following table you can see short explanations of the settings:
Explanation of the settings


| | |
| --- | --- |
| Permanent connection test | The app checks at regular intervals whether the mobile device still has an Internet connection. If you cannot ensure that there is always a connection everywhere (e.g. in underground garages), you should leave the button inactive, otherwise a technical alarm will be triggered again and again and this will also appear in the portal. |
| Alarm switch on the device | To use this function, you need special mobile devices 1*) that have a special button that can be pressed in the event of an alarm. You can find out which devices work in detail from our support team. |
| Inactivity until time alarm | If nothing is done on the app for the entered period, an alarm is triggered. Scanning checkpoints or tapping the display in the app is enough to reset the timer each time. The pre-alarm is part of the time alarm. The time alarm can be used by almost all Android devices. |
| Pre-alarm | Diese Einstellung gibt an, wieviel Zeit in Sekunden der Mitarbeiter hat, um vor dem Auslösen eines *scharfen* Alarms zu bestätigen, dass es ihm noch gut geht. Steht der Zeitalarm auf 5 Minuten und der Voralarm auf 30 Sekunden, wird bei Inaktivität nach 4 Minuten und 30 Sekunden ein Voralarm ausgelöst (Display schaltet ein und Tonsignal ertönt). Der Mitarbeiter hat dann 30 Sekunden Zeit, um zu bestätigen, dass er unversehrt ist. Tut er das nicht, wird ein *Zeitalarm* ausgelöst. |
| Requires active alarm receiver | This setting requires an alarm receiver to be set in the Receiving Center is permanently logged into the portal. If an employee wants to log in to the app, he or she must press the alarm switch on the device to trigger a test alarm, which is then shown in the Receiving Center must be confirmed. As long as the confirmation has not been made, the employee cannot log on to the app. If you cannot guarantee that someone will always be manning the reception center, you should leave this function deactivated! |
| Operating state cannot be reset independently | If a harmful alarm is triggered (by time alarm or alarm switch - not pre-alarm!) must be entered in the Receiving Center the device must first be enabled so that you can log back into the app. As with the active alarm receiver, you should leave this function disabled if you cannot ensure that someone is continuously logged into the receiving center. |
| Alarm center phone number | If a strong alarm is triggered (by time alarm or alarm switch - not pre-alarm!), the telephone automatically dials the telephone number entered here first. All private phone numbers may be entered here. The phone must have an active SIM card for a call to be made. |
Please note:
Since this is a so-called automatic dialing system, it is forbidden in Germany to enter public emergency numbers (e.g. 110, 112, 91222, etc.) in the field Phone number of alarm center!
1*) Not all mobile devices that have a red alarm button also work with our app. This is due to the fact that some manufacturers have assigned this button to a specific application and this cannot be changed on such devices!
Once you have entered all the settings according to your wishes and requirements, you must now specify which mobile devices are to be monitored.
To the right of the General tab, click on the Monitored Devices tab (devices already assigned to the profile will be displayed) and then click on the + Device Add button to the right.

A popup opens where all devices are listed. By clicking on the desired device and then on Apply, the device is assigned to the alarm profile.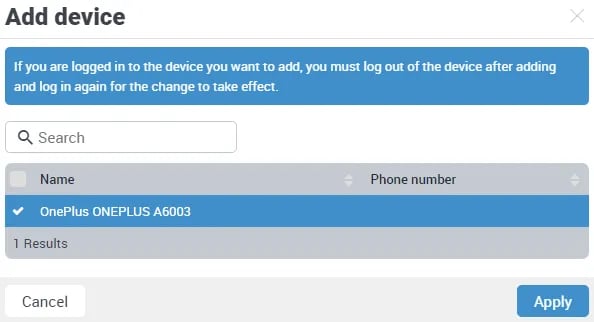 If a device has already been added to an alarm profile, you will immediately receive a warning that the device has already been added to a profile.

Now click on Confirm, the device will be added to this profile and removed from the other profile!
A device can only be assigned to one alarm profile!
If you have different requirements for different devices, you can create different profiles for the different devices.
Example:
You have a mobile device without the alarm button. For this you can set an alarm profile that uses only the time alarm and the phone number.
The needs active alarm receiver function must not be enabled on such devices, because the employee would never be able to log in to the app because the switch is physically not present. Activating the alarm switch on the device makes no sense because of this.
Another device has the alarm button and should also be secured. Here you create a separate alarm profile in which you can activate the Alarm switch on the device.
For each alarm profile you then select which device should work with which alarm profile. (see above). What an alarm receiver is and where it is needed, you can find out see here read up.